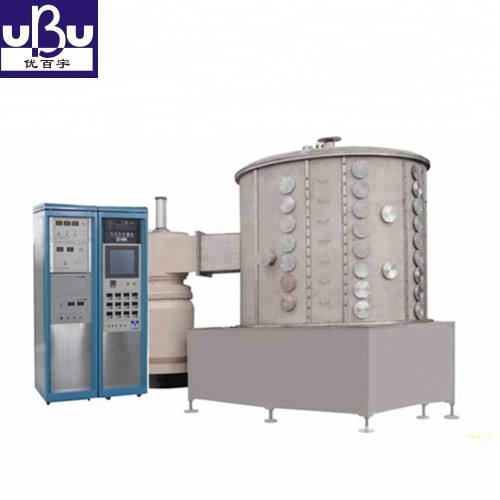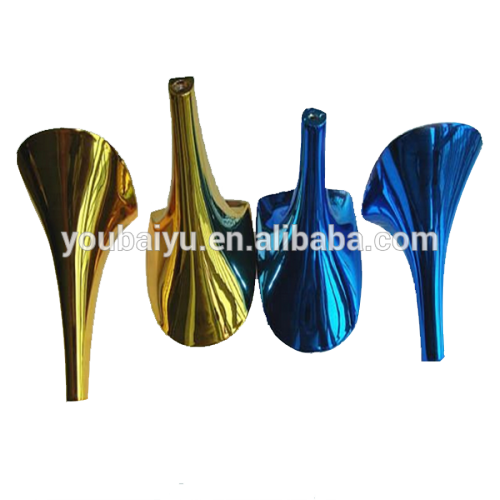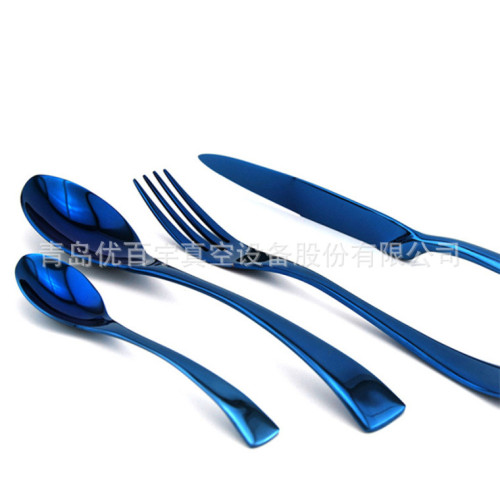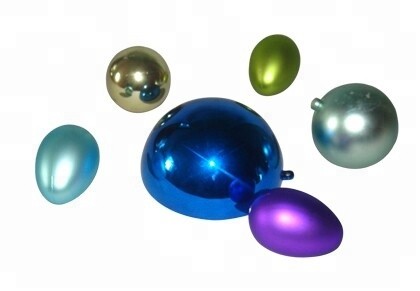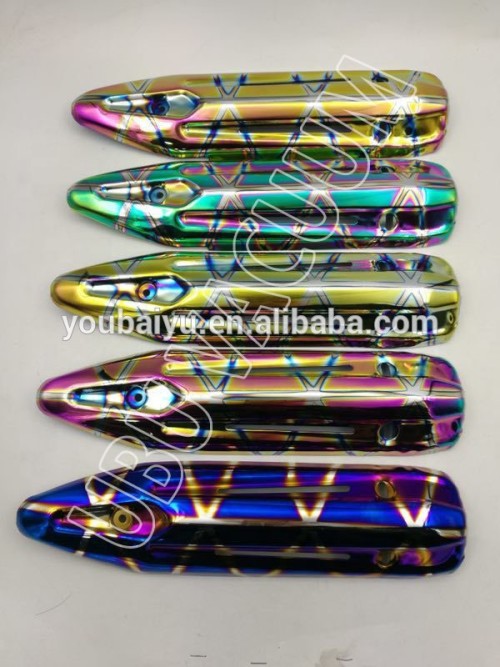 PVD vacuum multi-arc ion coating machine
Item specifics
Coating film

TiN, TiCN, CrN, TiALN, ALTiN, TiC, Au, Etc...
operating method

PLC+touch screen full controlling
chamber type

304 SS, vertical single door
Operation cycle

within 12 minutes
Description
1. Vacuum multi-arc ion coating machine is a high-tech environmental friendly product for metal,jewellery, glass and ceramic products surface coating.
2.After coating by this machine can improve the workpieces' hardness, wear resistance, corrosion resistance etc..
3.The machine itself has many advantages such as quick pumping speed, stable vacuum environment, large load capacity and uniform coating film.
4.Application industry including the watch industry (strap, case, dial), glass ceramics industry (glass tableware, ceramic crafts), hardware industry (sanitary ware, door knobs, locks), architecture industry (stainless steel plate, stair railings, columns), precision mold industry (standard punch mold, forming mold), tools industry (drill bits, carbide cutters, broaches, shaving heads), automotive industry (piston, piston rings, alloy wheels) as well as pens and glasses etc..
It can coat TiN, TiCN, CrN, TiALN, TiNbu, TiCrN, ZrN, and various kinds of diamonds film (DLC).
5.The film makes the product's surface much more beautiful and wearable
Model

LZ-1000

LZ-1200

LZ-1300
LZ-2000
LZ-2000
LZ-2000

Vacuum Chamber Size(mm)

ø1000×H1100mm

ø1200×H1300m

ø1300×H150000mm

ø2000×H2100mm

ø2000×H3500mm

ø2000×H4000mm

Application

Hardware industry, sanitary appliance industry, decoration industry, household appliances industry

Faucet, stair handrail, household appliances, LOGO signs, stainless steel frame, stainless steel parts and plate, etc...

Coating Film Type

Ti-Gold, Rose Gold, Champagne Gold, Japanese Gold, Bright Silver, Rainbow, Jewelry Blue, Rose Red, Black, etc.

Vacuum Chamber

Vertical door, hanging or horizontal cart structure, equip with pumping system and water cooling system

Vacuum System

Sustaining Pump + Mechanical Pump + Roots Pump + Diffusion Pump
or Molecule Pump(specific model according to customers' requirements)

Vacuum Measurement System

1 set pirani, 1 set cold cathode, 1 set diaphragm gauge

Supply Type

DC power, MF power, pulse power(bias power, arc power)

Ultimate Pressure

Non-loading cold state 1.0- 6.0×10-4Pa

Arc Source

8-10 set

8-12 set

12-16 set

18-26 set

22-28 set

22-36 set

200A-300A

200A-300A

200A-300A

200A-300A

200A-300A

200A-300A

Bias Power Supply

40KW/1 set

40KW/1 set

40KW/1 set

50KW/1 set

50KW/1 set

60KW/1 set

Magnetron Power Supply

1-2 set

1-2 set

2-3 set

2-3 set

2-3 set
2-3set

Rotation

Multi-axis planetary with frequency control(can be controlled and adjusted)

Baking Temperature

Normal temperature - 450℃ can be controlled and adjusted(PID temperature control)

Gas

3 or 4 ways working gas flow control and display system matched with auto gas adding system

Ar, N

2

, O

2,

C

2

H

2

,etc.

Cooling Method

Water cooling circulation, equip with industrial cooling tower or industrial water chiller(refrigerating machine)
or cryogenic system.(customers provide)

Controlling Method

Manual, half-auto, auto, touch screen operation, PLC or computer controlled

Supply Index

Air Pressure 0.5-0.8MPa, Water Temperature≤25℃,Water Pressure≥0.2MPa

Warning

Alarming system will work when hydropenia, over-voltage, circuit break such abnormal situation happens
and carry out related protect solution and electric interlock.

Total Power

60~80KW

60~90KW

90~120KW

165~185KW

185~200KW

200KW

Output Frequency

Voltage 380V,Frequency 50Hz(equip as customers' national electricity standard)

Occupation Space

15~50m²

15~50m²

25~55m²

25~55m²

35~55m²

35~55m²

Remark

Design and produce special machine according to customers' require, can add magnetron sputtering target,MF twins target,etc.
High quality strong Plywood cases packaging and transportation by sea.
Before-sales:
Our engineers are ready to provide custom made design and recommendation for each customer's case.
We provide professional consulting service for PVD Vacuum Coating Machine and lines.
We also have set up good relations with the suppliers of relative consumables and parts for your needs.
After-sales:
We will send the engineers to your place for installation, fine tune and for operation training.
We will provide troubleshooting service, answer and solve your problem.
The warranty period of the machine is one year, during the warranty,free repair.
We will contact you to ask for about the conditions of the machine in periodically.
We also provide the service for further extension on your existing machine.
1. Are you a manufacturer ?
Yes, we are a professional manufacturer of Vacuum coating machine for more than 10 years,and have rich experence ,enjoying good reputation in this line.
2. What certificate your products have been passed ?
We have passed ISO9001 2000 since 2007, and our product have CE, SGS certificate.
3. Are you responsible for installation overseas ?
Yes, we will send our engineers to your country for installation, train and teach your people operating the machine.
4. What should I do for our products before processing by PVD coating machine ?
Becouse of vacuum coating, your products must be clean,dry,and smooth,no grease, no impurities, you should construct cleaning system and drying system.
so we need washer, dryer,sometimes base coat,and pre-treatment to protect the coatings.
5. Does the machine cause environmental pollution ?
The machine is environment-friendly, there is no liquid chemical waste and harmful gas. This is a kind of green technology.