Product Description
UBU brand supply large Vacuum Multi-arc Ion vacuum coating machine
UBU brand large Vacuum Multi-arc Ion PVD Vacuum Coating Machineis a hightech environmental friendly product for metal,
 jewellery, glass and ceramic products surface coating. After coating by this machine can improve the workpieces' hardness, wear resistance, corrosion resistance etc.. The machine itself has many advantages such as quick pumping speed, stable vacuum environment, large load capacity and uniform coating film. Application industry including the watch industry (strap, case, dial), glass ceramics industry (glass tableware, ceramic crafts), hardware industry (sanitary ware, door knobs, locks), architecture industry (stainless steel plate, stair railings, columns), precision mold industry (standard punch mold, forming mold), tools industry (drill bits, carbide cutters, broaches, shaving heads), automotive industry (piston, piston rings, alloy wheels) as well as pens and glasses etc.. The film makes the product's surface much more beautiful and wearable.
Technical Specification

Type

LZ-1500

LZ-1800

LZ-2000

LZ-2200

LZ-2300

LZ-3200

Vacuum chamber size

D1500×H3500

D1800×H

3500mm

D2000×H

4000mm

D2200×H

4500mm

D2300×H

3500mm

D3200×H

2100mm

Chamber structure

Vertical

Vertical

Vertical

Vertical

Vertical

Vertical

Material

SUS304

Rotating system

6~8 axis

                                                                            Size 24403 plates
Heating
60KW
60KW
75KW
80KW
80KW
60KW
Arc No.
24
26
30
36
30
30
Arc power

200A

Bias power
10k'w
10k'w
12KW
12KW
20KW
20KW
Vacuum pump
Diffusion pump / Molecular pump + roots pump + rotary vane pump + holding pump / Direct connect pump     (can be adjusted by requested)
Vacuum gauge

Tsinghua9940B

Control system

Manual / PLC+touch screen

Process gas

Mass flow controller(4ways),Manual or automatic processing gas system

Cooling system

Cooling water tower, water cycle cooling system,

Pumping speed

From 1 atm to 2.0×10-2Patakes less than 15min (room temperature, clean and unload)

Ultimate vacuum

8.0×10-4Pa

Leakage rate

1h≤0.6Pa

Alarm and protection
Water pressure alarm, air pressure alarm, over current protection, execution on related protective measures and electrical interlock systems.
Foot print 
W3m×L3.5m
W3m×L3.5m
W3.5m×L5m
W3.5m×L5m
W4.5m×L5.5m
W5.5m×L5.5m
Other technical data

Water pressure ≥0.2MPa,water temperature ≤25℃,air pressure0.5-0.8MPa
Packing and Dilivery
Company Information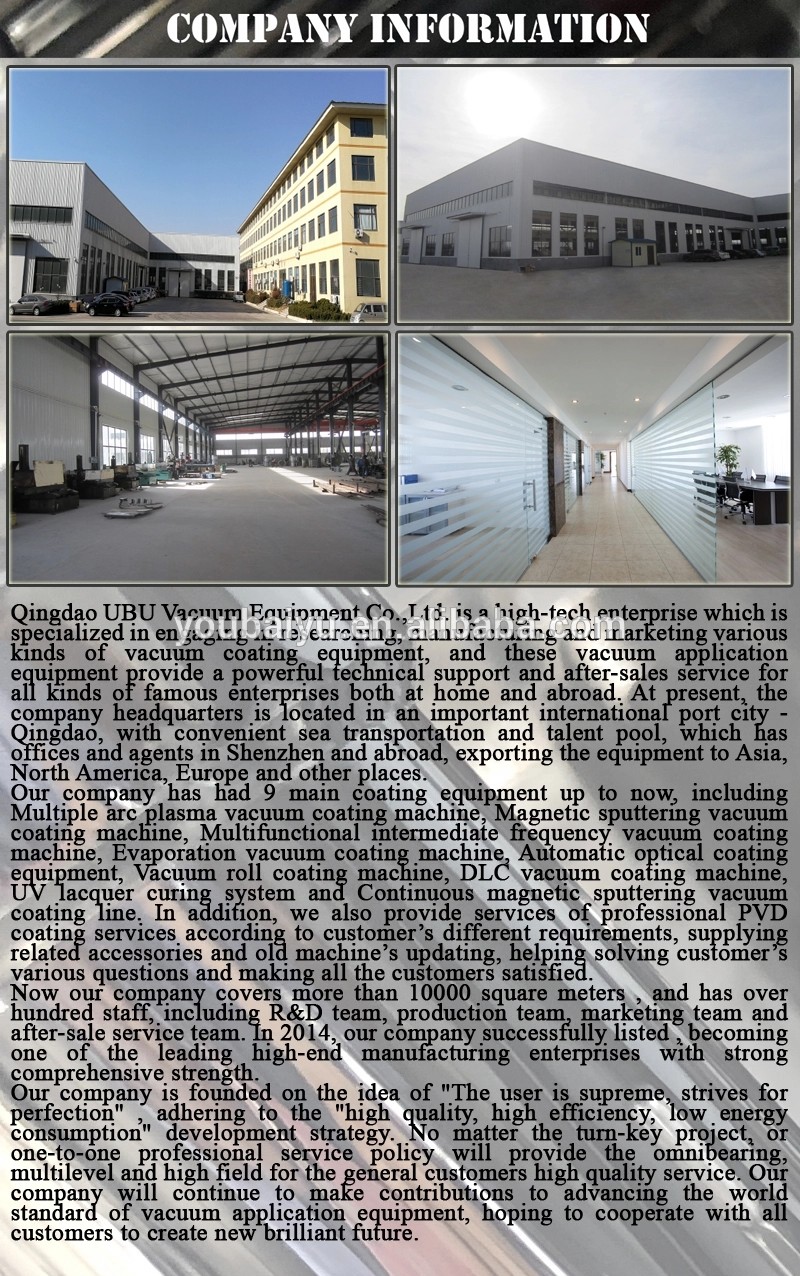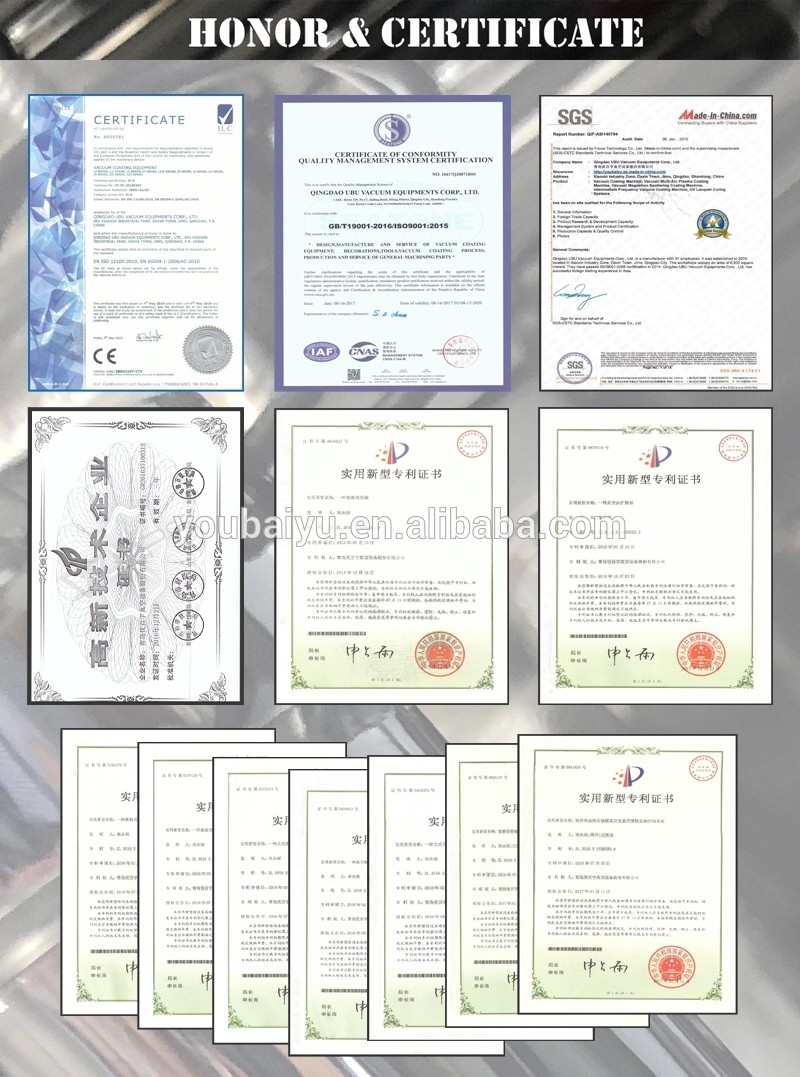 Dear sir:
 When you are going to send us an inquiry, in order to design the most appropriate machine for your product, please tell us some information in your letter.Thank you very much.
1, What is your products ? size ? material ?
2, How many products do you need to coating per day ?
3, What film do you want to coat on your products?